UpLife Project JenUnplugged: memories of my childhood best friend
"Texas is OK if you want to settle down and do your own thing quietly, but it's not for outrageous people, and I was always outrageous"

– Janis Joplin
Jen and I both grew up in the same small town. For a decade, we were best friends. We rented our first apartment together and we lived together for years. In our 20's, we danced in mini skirts until all hours. We threw great dinner parties, with a bit of a decadent streak.
Jen was flamboyant, charming and a bit edgy. She stretched boundaries. She was hilarious and could have a whole room in stitches. She also had a big heart and a softer side with some deep self-doubts.
When I was 19, I was drawn to her outrageousness. I would have been horrified to stand out as much as she did. But I loved being associated with her as if this made me different. She said she appreciated my inner strength and support. So with this tacit weave of understanding, our friendship grew.
By 30, we had gone our separate ways. Each of us had changed. Our friendship ended at first awkwardly, sadly and then naturally. We've seen each other now and then over the years. Enough so there's nothing unfinished.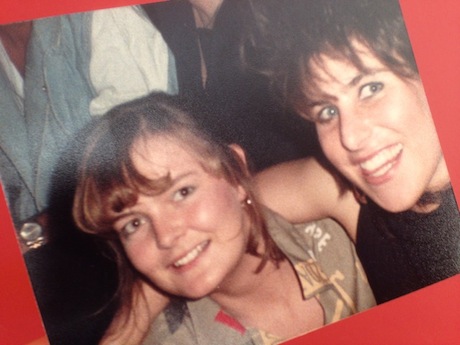 Her doctor asked her if she worshipped the devil
When Jen was 19 years old in the small town we grew up in, she was diagnosed with Crohn's disease and ulcerative colitis. It was the 80's. She had spikey hair, tinted red and sometimes blue. She wore dramatic makeup. She loved vintage clothing, spandex and high heels.
After explaining her diagnosis, Jen's doctor told her that she should prepare herself for a bland, painful, short life. This same doctor also asked her if she was worshipping the devil. He encouraged her to go to church and pray to God.
Well, Jen's life was never bland. But it wasn't easy. There were things she couldn't eat without days of pain after. Not tomatoes. Not alcohol. Not anything with heat. When she went somewhere, she'd have to scout for where the washroom was, because she knew at some point very quickly – she'd need it. She'd make jokes about this.
In the years we lived together, Jen carried a bag of prescription drugs with her which she'd often make fun of. Prednisone. Sleeping pills. Side effects that would make her skin so sensitive, she couldn't go out in the sun. Mockingly, she'd offer the drugs in her little zippered bag to others like candy, though I don't remember anyone sampling one.
A diagnoses that kicked off a transformational journey
22 months ago, Jen was living in Calgary and diagnosed stage 4 colorectal cancer. She went to Vegas and got married. She began a transformational journey which included dressing in drag for chemo, and events to raise funds for cancer research. A filmmaker began intimately documenting Jen's journey.
When I heard about Jen's death, I lit a candle and carved out some quiet. I watched a speech she gave online. Her voice is much stronger than I remember. She shares openly about how cancer helped her transform her self-worth. How it transformed her relationship, too. I'd also add that it had a hand in awakening her full potential.
I watched, I remembered. I toasted her and I cried, but mostly I appreciated. I thought about who Jen and I were when we met, and who we were when we parted. How we've both changed.
Find out what really matters to you (do you know?)
Our bodies are temporary, fleeting spacesuits created to express the energy of our souls. Our daily choices shape us. The exquisite truth that all humans face, no matter where we live or what we believe in, is that we never really know how long our journey here will last.
When Jen and I knew each other, we were girls from a small town. At that time in our lives, I believe that we reflected a deeper part of one another. One that neither of us at that time, were ready to claim for ourselves. These reflections brought us together, quite intensely for a time. And in the end, it separated us. For me, this feels true.
What is true is that we all have a limited time here. Finding out what really matters to you and doing it your way is so very important for our world now. In photos, Jen makes fearlessness look easy. I didn't know her in recent years. However, I do know enough to know that her journey was not easy: not at all.
Live and appreciate appreciate appreciate...
Life could end for any of us at any time. This certain-uncertainty is one we could choose, if we wish, to honour. To breathe in rather than run from. To befriend and deeply appreciate, and live each day knowing.
Meaning of life articles for your heart. Created with love.
comments powered by
comments powered by
---
Take me to:
Get Moondancing delivered to your Inbox
Spiritual awakening blog – Go back to read the full list of past Moondancing issues organized so you can easily find what your heart seeks today.