Free stuff for Fellow Heart Explorers
I'm offering this inspirational free stuff to other good souls who are on an awakening journey. Who may have a fire in their belly and a dream in their heart.
Whether you're spiritually awakening, truth-seeking, healing, facing a life transition or seeking your soulmate, I hope that my gifts will help you trust yourself along the way.
I'm a bit different than most promoting their work online.
If you decide to sign up, you'll get weekly inspirational emails from me, for 26 weeks. Then they'll end.
The reason for this is that I've moved on to other things creatively. But I am a real person, and still here so there are ways to keep in touch, if you want to.
So then! Here's the free stuff you can get if you decide to subscribe.
(scroll down if you're ready now)
"There aren't many newsletters with content that has the depth and inspiration that yours does. Thank you for being an ever-present light that helps guide my way."

– Diane G.
---
Gift #1 — Moondancing Soul Letter ($97 value)
This inspirational "best of" e-mail series consists of 26 weekly emails representing my personal "arc" of spiritual awakening. No matter where you start, it has the potential to deepen your self-trust... as you walk your own unique path. More about Moondancing
Gift #2 — Know if you're on off track ($47 value)
Gifts #3 & #4 — Samples of my books
The first six chapters of my awakening novel Moondance. Moondance is a modern spin on spiritual awakening, soulmates and past lives. If you're in an intense part of your awakening (or like visionary fiction), you'll love Moondance. Plot summary and awards

The first nine chapters of my intimate memoir Back to the Water. If you're an empath, a sensitive, or the "Odd Duck" in your family because of your spiritual choices, I think you'll resonate with this one. More about Back to the Water
Just say YES...
To get Moondancing, my "off track" report and book samples immediately, SIGN UP NOW.
You'll receive a confirmation email shortly after – then you'll be set. Moondancing in your own way!
---
---
P.S. – I hate spam, too! I'll never share your personal information with anyone, for any reason.
Of course, you can leave at any time (and keep your gifts). Just click the unsubscribe link at the bottom of any email you receive from me and you won't hear from me again.
Thanks for stopping by. Here's to you creating the life your soul intended,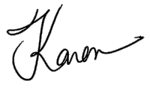 Karen M. Black BSc, MBA
Heart Explorer
---
Go back to the Home page