Books by Karen M. Black
Gripping, heart-healing, empowering... real
"In a word: Masterpiece. You have written about the universal journey of individuation to which many people will relate. So many people could use this book now."

– Cynthia Barlow, President C3 Communication
Karen M. Black's books are not "formula self-help" books. They don't fit tidily into predictable, mainstream self-help or soothing new age spirituality.
Instead, they're real. They go deep. They don't hold back. Karen aims not only to grip and entertain, but to inspire and most of all: empower.
And bonus: Karen's books are compulsively readable...
Book formats currently available
Moondance is available as a paperback and an ebook. Back to the Water (released in January 2018) is currently available as an ebook, with paperback to come (sign up to Karen's newsletter Moondancing to be notified).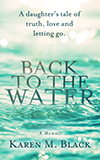 Back to the Water:
A daughter's tale of truth, love and letting go
A spiritual family memoir. And a love letter for those who feel they're the odd ducks in their family...
Using interconnected stories and a rich, sensory style, Black unravels the history of her perfect family entangled with elusive truths about herself. If you're the different one in your family, Back to the Water will pull you deep, carry you through dark waters and deliver you – changed – to a lush, promising shore... Learn More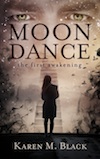 Moondance:
The first awakening
An addictive tale of spiritual awakening, soulmates and past lives...
Packed with insightful perspectives on life's most perplexing questions, Moondance is a modern exploration of spiritual awakening. It's not only the ideas Moondance explores that make it unique, but how it explores them. Intelligently. At a compulsively readable pace... Learn More
---
Take me to: