Will you Accept this Invitation?
Hello, it's Karen M. Black, author of the awakening novel Moondance and the groundbreaking memoir Back to the Water.
I create inspiring free content on Heart Explorations on a variety of topics, from spiritual awakening, enlightenment and more.
Moondancing: Whispers from your Heart is my soul letter for fellow Heart Explorers on their own journeys. I send Moondancing every few weeks, or when it feels right.
Sign up now
P.S. – I hate spam, too! I'll never share your personal information with anyone, for any reason.
You'll also receive...
When you sign up to receive Moondancing, you also receive this helpful BONUS GIFT: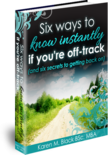 "Six ways to know instantly if you're off-track (and six secrets to getting back on)".
The Moon represents emotion...
"I think you are gifted, one who can help others relate to you and to themselves."

– Helen, Toronto
The name Moondancing comes from my book Moondance, which explores the sometimes confusing nature of spiritual awakening in the modern world.
I use Moondancing to mine my own inner life in a way that helps others to connect with theirs.
After all, the Moon represents emotion. If fact, it's the mediator between our inner and outer world.
And for me, the Dance is about flowing with the cycles of life.
Moondancing... is your heart dance
In each issue of Moondancing, I share my stories about life to help you enrich yours.
You see, I envision our mind-heart relationship as a beautiful Dance.
At times, our heart leads and at times, it follows.
Knowing which to trust and when, this Moondancing we all do, is an intricate business.
Moondancing... inspires discernment
Life here on earth is complex.
Truth too, is elusive and wears many masks. Distractions abound!
Our heads, our Hearts, our desires and that which is outside us compete for our attention.
So each intuition, each whisper, must be thoughtfully discerned and vetted deep inside.
At the heart of it all of course, we're energy, we're connected and humanity is on the cusp of change.
This is our journey. And each of us lives it in our own way.
So Moondancing is not only a collective creation... it's a collective remembering.
Whispers from Your Heart
"There aren't many email subscriptions with content that have the depth and inspiration that yours do. So, I just wanted to take a minute after reading Did you hear? and say thank you for being an ever-present light that helps guide my way."

– Diane G.
Over the years, readers have kindly written me to say that I write exactly what they need to hear, when they need to hear it.
As if whispers were coming from their own heart.
Moondancing is a string of words created by my heart, received by yours and transformed into the action of living.
Your responses to me in return... becoming Whispers from my heart.
This is life. This is Moondancing.
This is one way consciousness will rise...
Just say YES!
"Just read your latest issue and it was on target again. Witty, relatable and encouraging. Thank you for the inspiration. P.S. My sister echoes my sentiments from Spain..."

– Roxanne Embleton, Toronto
Yes, I'm ready
P.S. – I hate spam, too! I'll never share your personal information with anyone, for any reason.
Saying Yes to Moondancing is saying yes to your own, most intimate dance.
Another way to immerse yourself in the mystery of life.
It's about opening to your heart's whispers. Discovering your unique essence. Trusting your soul's call at every step.
Perhaps Moondancing will speak to you. Perhaps its promptings will find you, just when you need them.
You can have it all. In fact, you're meant to.
You are loved. You are Love.
And we're all in this together.
Just say YES.
To Moondancing... Whispers of your Heart.
And to a helpful 16-page gift "Six ways to know instantly if you're off-track (and six secrets to getting back on".
Thanks for stopping by. Here's to you creating the life your soul intended,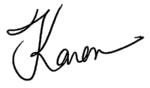 Karen M. Black BSc, MBA
Heart Explorer
P.S. Of course, you can unsubscribe from Moondancing at any time. Just click the Cancel link at the bottom of any email you receive from me and I won't contact you again.
P.P.S. If you liked this, you'll love my new book Back to the Water...
---
Go back to the Home page