Free stuff created to inspire you
I created this free stuff for meaning-focused seekers, with a fire in their belly and a dream in their heart.
Whether you're on a spiritual awakening (or healing) journey, facing a life transition or seeking your soulmate, I hope that my gifts will help you sharpen your intuition and trust yourself along the way.
So then! Here's the free stuff you can get.
---
Gift #1 — Know if your off-track ($47 value)
Instantly get my 16-page report "Six ways to know instantly if you're off track (and the six secrets to getting back on)".
This report will reveal how you're doing. And it will help you stay on track.
P.S. – I hate spam, too! I'll never share your personal information with anyone, for any reason. Plus you can leave, anytime.
Bonus gifts #2 and #3 — ($97 value)
There's more! With the above report, you'll also get:
The first six chapters of my novel Moondance, a modern, addictive spin on awakening, soulmates and past lives. Plot summary

A free subscription to Moondancing... Whispers from your heart Moondancing is my soul letter. I send it every few weeks, or when it feels right. The Moon symbolizes emotion. The Dance is about flowing with the cycles of life.
To get your free report and two bonuses immediately, SIGN UP NOW using the above form.
Of course, you can leave at any time (and keep the free stuff). Just click the unsubscribe link at the bottom of any email you receive from me.
Thanks for stopping by. Here's to you creating the life your soul intended,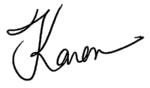 Karen M. Black BSc, MBA
Heart Explorer
---
Go back to the Home page